Team info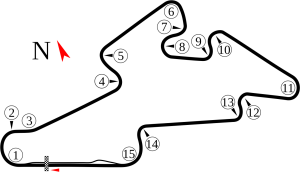 Automotodrom Brno, a.s.
Address: Masarykův okruh 201 664 81  Ostrovačice
GPS: 49°12'15.1″N 16°26'40.3″E
Tel.: +420 546 123 327
fax: +420 546 123 328
E-mail: bozkova@brno-circuit.com
Web: http://www.automotodrombrno.cz/
Circuit length: 5.403 km (3.357 mi)
Track record: 1:39.089 (Ingo Gerstl, TopSpeed, BOSS GP, 2015)
Map
The circuit can be found close to the main D1 Prague to Brno motorway.  From Prague you can take Exit 178 (signposted Ostrovačice) and from Brno/Vienna  Exit 82 (Kývalka) and follow signs to the circuit.  For those that want to sample part of the old circuit, head out of Brno on route 602, which runs parallel to the motorway.
Main Gate GPS
9°12'16.6″N 16°26'49.6″E